Little Chabad House on the Prairie:
An educational and spiritual lighthouse in Southern Minnesota, offering many educational, humanitarian and social events and programs for all age groups within the community.

Moussia Hospitality:
Providing extensive, caring support and assistance to patients and families visiting the Mayo Clinic from all over the world. From warm meals, to personal counseling, it is a place of genuine, warm hospitality and care for everyone - regardless of race, color or creed.
WHO WE SERVE:
Local & Regional Community:
Community Outreach

Adult Education

Humanitarian Initiatives

Charity Fund

Torah classes and private study

Special women's programming

Jewish Youth Education - JUDA

Shabbat & Holiday Events

Volunteer Programming

Social Services


 
Visitors to Rochester, Minnesota:
Moussia Hospitality

Chabad on Call

On staff Chaplain

Grief Counseling

Respite area

Shabbat & Holiday Care Packages

Shabbat meals for hundreds throughout the year

Kosher food resources

 
 ------------------------------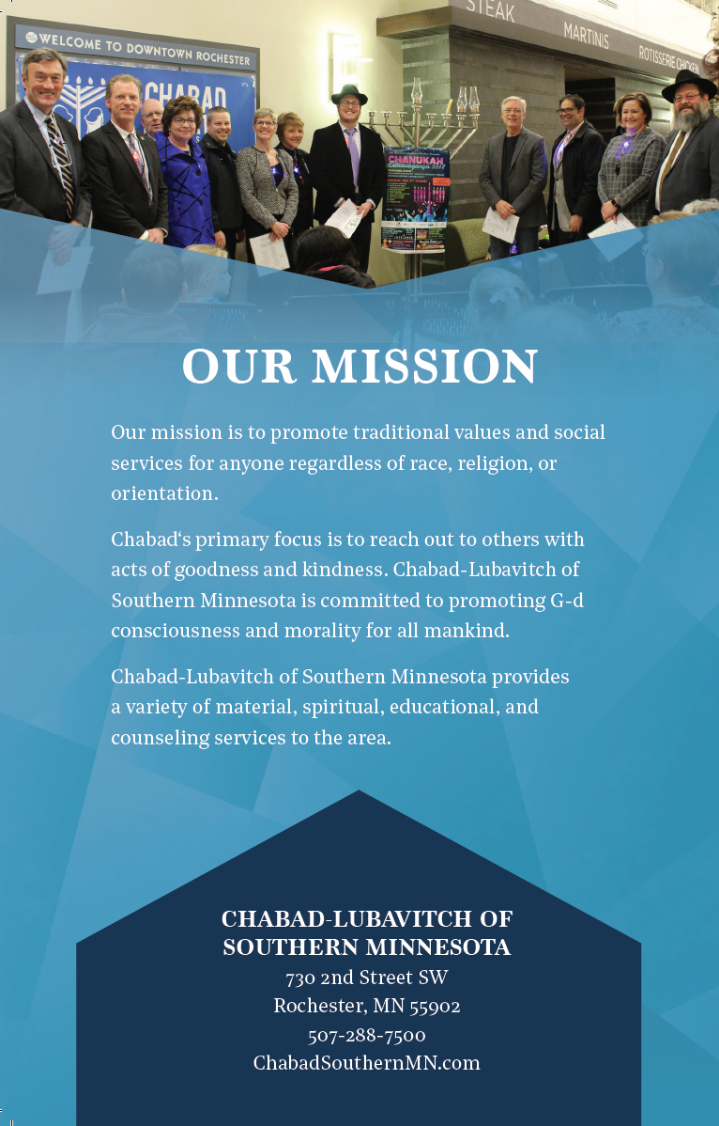 Founding:
In 1988 the Lubavitcher Rebbe sent Rabbi David and Chanie Greene to Rochester with the goal of strengthening the Jewish life of visitors, patients and families who come to the world-famous Mayo Clinic, and to be the Chabad representatives in southern Minnesota. They established the Chabad-Lubavitch of Rochester Jewish Education & Hospitality Center as an oasis of Jewish hospitality and chassidic warmth in southern Minnesota.
In 2017 Rabbi Shloime and Chana Greene move to Southern Minnesota and establish the Southern Minnesota Center for Jewish Life a branch of Chabad-Lubavitch of Southern Minnesota
The Greene's have become known throughout the world for diligently living up to their motto, "For All Your Jewish Needs".
For more information feel free to contact our office at 507-288-7500.
Chabad-Lubavitch of Southern, MN is the Southern Minnesota affiliate of Upper Midwest Merkos and branch of the worldwide Chabad-Lubavitch movement. Every Chabad center is financially independent. Chabad-Lubavitch of Rochester is not funded or financially supported by central headquarters. Funding for local Chabad programs are grassroots based generated from within the community. No money or dues are sent to any Chabad headquarters — all funds remain right here in our community.